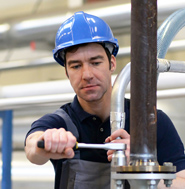 PEJOC offers its clients a wide range of services: from the revision of the planning, regular maintenance work and the supervision of such work.
Our technicians can carry out work on all filtration systems produced by the following manufacturers: Taprogge, GEA, Koller and Technos.
Our maintenance staff are specially trained to ensure compliance with all legal regulations, allowing the full performance of work without any inconvenience by our group of highly qualified engineers.
PEJOC not only has the experienced personnel, but also the most important spare parts in order to act as quickly as possible in case of any emergencies.
At PEJOC we provide solutions according to our clients, and we always prepare our budgets according to the individual needs of each client, from a turnkey service to the execution of a supervision.